Gay Ft. Lauderdale: The Latest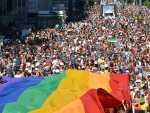 Feeling like there's so much to do, so little time, and not sure where to eat and drink before and after it all? Here are our top picks for some sweet spots in Times Square and it's delightful LGBTQ-friendly adjacent neighborhood, Hell's Kitchen.
A Los Angeles woman says she and her date were told to leave a popular deli after sharing a same-sex kiss; the owner says the reason was not homophobia, but rather a "no making out policy."
Music legend Richie Supa speaks candidly of the 60s and the era following the Stonewall Uprising where counterculture often led to addiction.
Gloria Vanderbilt, the intrepid heiress, artist and romantic, died Monday at the age of 95.
The Supreme Court is throwing out an Oregon court ruling against bakers who refused to make a wedding cake for a same-sex couple.
Well, here's one person who doesn't seem to be wowed by Lady Gaga in the 2018 remake of "A Star is Born."
YouTube star and actor Eugene Lee Yang came out as gay over the weekend, sharing a video called "I'm Gay."
Since Shania Twain launched her first residency in Las Vegas seven years ago, Sin City has been invaded with contemporary pop stars, from Lady Gaga to Drake to Christina Aguilera, jumping on the residency trend.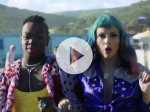 Taylor Swift is sharing the music video for her latest single "You Need to Calm Down," an LGBTQ anthem of sorts, which features a number of queer celebs.
Pete Buttigieg, in an interview, offered the speculation that if he were to be elected president of the United States, he might not actually be the first gay man to hold the office.
The battle to contain the worst U.S. measles outbreak in 27 years has a new front: summer camp.
A compelling tale combines with superb performances in this lovely and profound directorial debut by Joe Talbot.
The eastern Oregon city of Pendleton has stopped jailing people unable to pay fines, a city official said, following the settlement of a federal lawsuit contending city officials were running a debtors' prison.
Oregon is on the precipice of becoming the second state after California to adopt a cap-and-trade program, a market-based approach to lowering the greenhouse gas emissions behind global warming.
Tens of thousands of Americans each year are dropped by their insurers over payment issues, sometimes with little or no prior warning from their insurers.
Ford has opened a research center in Israel, joining a legion of major automakers racing to develop new technologies for the world of driverless cars.
Milan Fashion Week for spring/summer menswear previews has started with a slightly different rhythm, with many mainstays not showing this season.
The state of Arizona is revoking the license of a care facility where an incapacitated woman was raped and gave birth last year after another patient was found to have maggots.
A posh Northern California hotel was ordered to pay $1.6 million in penalties Thursday for failing to provide public access to its nearby beaches.
Key West celebrated Pride with the Stoli Kickoff party. There was also plenty more fun to be had at 801, Bourbon Street Pub and Aqua Nightclub.