Top Story
Brad Pitt, star of the new space movie "Ad Astra," had a burning question for a real-life astronaut.
A new venture backed by many of video gaming's biggest publishers is unveiling a network that hopes to be to esports what ESPN has been to traditional sports.
A whistleblower's complaint shows that Facebook has inadvertently provided two extremist groups with a networking and recruitment tool by producing dozens of pages in their names.
A new vaccine deliberately constructed to prevent the poliovirus from regaining virulence may be the answer.
The key to carbon dioxide's strong influence on climate is its ability to absorb heat emitted from our planet's surface, keeping it from escaping out to space.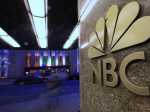 Comcast's NBCUniversal said Tuesday that its upcoming streaming service will be called Peacock, in an homage to NBC's logo. It will become the home for some of the company's most popular shows, including "Parks and Recreation" and "The Office."