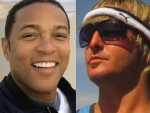 A Hamptons bartender has filed suit against openly gay CNN anchor Don Lemon, claiming that Lemon put his fingers under the bartender's nose after handing his own junk while asking the bartender about his sexual preferences.
John Hickenlooper will drop out of the Democratic presidential primary on Thursday, according to a Democrat close to him.
How New Hampshire receives the president on Thursday will offer a fresh test of whether people will give credit to Trump for the state's economy, base their decision on social issues or make their vote a referendum on the president's character.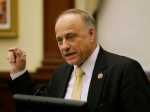 U.S. Rep. Steve King is defending his call for a ban on all abortions by questioning whether "there would be any population of the world left" if not for births due to rape and incest.
SAGE and the American Society on Aging (ASA) released a joint comment supporting LGBT-inclusive implementation of section 1557 of the Affordable Care Act.
A top Trump administration official said Tuesday that the famous inscription on the Statue of Liberty welcoming immigrants into the country is about "people coming from Europe."
Democrat Stacey Abrams, who vaulted onto the national political stage championing voting rights during an unsuccessful 2018 run for Georgia governor, announced on Tuesday that she's launching a new multistate voter protection initiative.
Democratic presidential candidate Pete Buttigieg said Tuesday that anti-immigrant sentiment in rural America declines when residents know and appreciate the role of those moving into their communities.
An Arizona county official recently recycled a long-debunked lie about the average gay male dying in his 40s — and he slammed marriage equality, compared gays to alcoholics, and complained about LGBTQs wanting acceptance while he was at it.
Mounir Baatour, an openly gay Tunisian politician, has set his sights on his country's top office: That of president. If elected, he would be the first openly gay president in an Arab nation, numerous media sources report.