1 thru 10 of 6403 Stories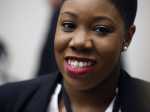 Joe Biden has hired Symone Sanders, a prominent African American political strategist, as a senior adviser to his newly launched presidential campaign.
A breakdown of the 20 candidates.
Former Vice President Joe Biden formally joined the crowded Democratic presidential contest on Thursday, declaring the soul of the nation at stake if President Donald Trump wins re-election.
As House Democrats ramp up their post-Mueller investigations into President Donald Trump, his strategy for responding is simple: Resist on every legal front.
Mayor Pete has not been coy about the fact that he is gay, and he has been equally forthright about his status as a happily married man. But just who is his husband, Chasten Buttigieg?
An unbeatable edge bestowed by early voting and a campaign that avoided going negative were hallmarks in openly lesbian candidate Jane Castor's landslide victory in her run for mayor of Tampa, Florida.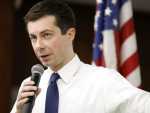 Pete Buttigieg is suddenly the hottest ticket for Democratic donors in the 2020 presidential contest.
Indiana Mayor Pete Buttigieg (BOO'-tuh-juhj) is the latest Democratic presidential candidate to agree to hold a town hall meeting on Fox News Channel.
If elected in the 2020 elections, Dan Baer would represent Colorado as the first openly gay man to be elected to the Senate.
Hollywood's powerhouse gay glitterati are throwing their support to Mayor Pete's candidacy, with none other than Ryan Murphy set to host a fundraiser for him in June.
1 thru 10 of 6403 Stories