1 thru 10 of 6921 Stories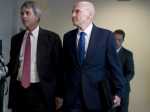 A former top State Department aide testified in the impeachment inquiry that the Trump administration's politicization of foreign policy contributed to his resignation.
Trans rights advocate Ashlee Marie Preston was showcased in an Elizabeth Warren campaign video recently, declaring herself "not afraid of the fight." Now she's got one with the mergence of racist and homophobic tweets from years ago.
One of four Kansas legislators who made headlines last year by defecting from the Republican Party is running for the U.S. Senate as a "pragmatic" Democrat, entering a race in which some GOP leaders are worried about Kris Kobach's chances.
As she faces growing scrutiny, Sen. Elizabeth Warren is opening herself to criticism that she's just another politician dodging the tough questions.
He said she's a "third-grade" politician. She said he's having a meltdown. And with that President Donald Trump and House Speaker Nancy Pelosi chalked up the latest explosive meeting that ended abruptly with a walkout at the White House.
Maryland Rep. Elijah E. Cummings died early Thursday due to complications from longstanding health challenges, his congressional office said. He was 68.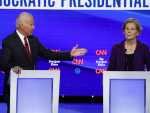 Voters got a better look at Democrats' health care priorities on Tuesday, as 12 of the leading candidates vowed to codify abortion access, threatened to jail opioid company executives and added a few more details to their health plans.
A dozen Democratic presidential candidates participated in a spirited debate over health care, taxes, gun control and impeachment. Takeaways from the three-hour forum in Westerville, Ohio.
Bernie Sanders and Elizabeth Warren don't just lead the Democratic presidential primary in fundraising. They've stockpiled millions more than their rivals, including former Vice President Joe Biden.
Voters are more concerned with how much they have to pay for medical care, like prescription drugs, but whose plan is most comprehensive?
1 thru 10 of 6921 Stories