1 thru 10 of 2809 Stories
Alabama authorities say a 24-year-old Birmingham man has pleaded guilty to murder and attempted murder of victims he targeted because they were transgender.
Shoppers and employees have described terror and chaos as shots rang out inside a busy California warehouse store as a gunman in an argument near the freezer section opened fire — killing one man, wounding two and sparking a stampede.
Winston McKay, 40, was shot and killed by a stray bullet while walking his dog after celebrating his and his husband's anniversary early Monday morning.
A 33-year-old man has been arrested in the slayings of three women in Dallas, including a transgender woman whose death brought nationwide attention, police said Wednesday.
A convicted killer in Florida who authorities say targeted gay men is scheduled to be executed later this summer.
The Justice Department says nearly 1,700 people have been arrested following a two-month crackdown aimed at targeting suspected child predators.
An openly gay Georgia man was on his way to work at a local hospital when two men got out of a pickup truck, hurled an anti-gay epithet at him, demanded his bag — and then shot him dead.
A New York City college student accused of plotting a terrorist attack on Times Square spent months trying to stockpile guns and grenades, heaped praise on the Islamic State group and Osama bin Laden, federal prosecutors said.
A military appeals court's reversal of a West Point cadet's rape conviction and 21-year prison sentence has outraged sexual assault victim advocates who say the decision is filled with victim-blaming and antiquated notions about rape.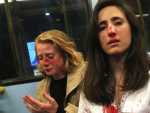 Police in London have arrested a fifth suspect on suspicion of punching two women on a bus because they are lesbians.
1 thru 10 of 2809 Stories