Gay Ft. Lauderdale: The Latest
The latest episode of "And Just Like That" is being slammed for a poorly timed Holocaust joke. But did you know that actor who delivered the line is Gus Kenworthy's ex?
Kanye West is allegedly spreading rumors that Pete Davidson is gay and suffering from AIDS, according to a report from TMZ.
Actor Ezra Miller is leaving his fans scratching their heads and worried. The DC superhero did not explain what prompted the video but his fan base seemed worried about his well being in comments.
A source reveals Mars, Inc.'s bumbling history regarding M&M's and LGBTQ+ inclusivity.
A federal judge resentenced "Tiger King" Joe Exotic to 21 years in prison on Friday, reducing his punishment by just a year despite pleas from the former zookeeper for leniency as he begins treatment for cancer.
With the number of sources of new music having grown exponentially over the past decade, it has become easy to explore new queer artists. Here are some queer musicians and influencers worth checking out.
Young people are largely unaware of the risk of contracting sexually transmitted infections, or STIs, through oral sex.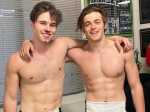 This week's edition of Gay Twitter includes hilarious reactions to the latest episodes of "Euphoria," "AJLT," "The Gilded Age," Lana Del Rey's debut turning 10 years old, and more!
Just when it seemed "And Just Like That" couldn't get worse, it dropped a Holocaust joke. And viewers were appalled.
Ever heard of Shigella sonnei? There's a good chance you have not, but you might want to take notice: It's an antibiotic-resistant STI spreading among men who have sex with men.
According to news reports, Kevin Ward, the openly gay mayor of Hyattsville, Maryland, died by an apparent suicide on Jan. 25.
A cruise ship that was supposed to dock in Miami has instead sailed to the Bahamas, after a U.S. judge granted an order to seize the vessel as part of a lawsuit.
Moderna has begun testing an omicron-specific COVID-19 booster in healthy adults.

For the first time in half a year, families on Friday are going without a monthly deposit from the child tax credit.
Toyota is working with Japan's space agency on a vehicle to explore the lunar surface, with ambitions to help people live on the moon by 2040 and then go live on Mars, company officials said Friday.
If you're scrambling for ideas for the best Valentine's Day gifts, look no further than EDGE's curated collection from some of our favorite LGBTQ+-owned businesses.
The Centers for Disease Control and Prevention reached out to pharmacists Wednesday to reinforce the message that people with moderate to severe immune suppression are eligible for fourth covid shots.
New Malaysian carrier, SKS Airways, took to the skies Tuesday with short-haul flights to holiday island resorts as domestic travel rebounds.
Mad Angel Entertainment presented the 49th celebration of the Miss Gay America pageantry at the Robinson Theatre in Little Rock, Arkansas. Congratulations to Dextaci who was crowned Miss Gay America 2022.