Gay Ft. Lauderdale: The Latest
From a secure room in the Capitol on Jan. 6, as rioters pummeled police and vandalized the building, Vice President Mike Pence tried to assert control. In an urgent phone call to the acting defense secretary, he issued a startling demand.
This week it was announced that actor Josh O'Connor ("The Crown") and writer/director Frances Lee ("God's Own Country," "Ammonite") are planning to work again, this time on a gay horror film.
Why would USMNT and LA Galaxy player soccer star Sebastian Lletget post a video of himself using a gay slur on teammate Julian Araujo to his 689,000 Instagram followers?
An ardent abortion foe who once opposed allowing gay couples to be foster parents, Arkansas Gov. Asa Hutchinson is the unlikeliest figure to complain about bills on the "culture wars" reaching his desk.
The United Arab Emirates named the next two astronauts in its space program Saturday, including the country's first female astronaut.
As many as 60 countries, including some of the world's poorest, might be stalled at the first shots of their coronavirus vaccinations because nearly all deliveries through the global program.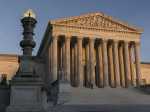 The Supreme Court is telling California that it can't enforce coronavirus-related restrictions that have limited home-based religious worship including Bible studies and prayer meetings.
Despite the strongest public support and the most sympathetic president in years, the American labor movement just suffered a stinging defeat -- again.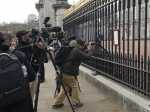 The U.K.'s national broadcaster switched instantly into mourning mode when Prince Philip's death was announced Friday. ome Britons saw the BBC's actions as a fitting mark of respect. For others, it was a bit much.
people who didn't test positive for COVID face difficulty getting treatment and disability benefits. And, sometimes as aggravating, many find that family, friends or even doctors have doubts they contracted COVID at all.
The Anti-Defamation League has called for Fox News to fire prime-time opinion host Tucker Carlson because he defended a white-supremacist theory that says whites are being "replaced" by people of color.

Ft. Lauderdale, FL
Talented new performers will make their debut during the venue's return April 22 with dinner shows Thursday through Saturday and Gospel Brunch every Sunday.
How have Hollywood and Broadway responded to an exposé detailing routine abuse and bullying by producer Scott Rudin? Mostly, with crickets.
Nike has settled its suit against art collective MSCHF for unauthorized modification of Nike sneakers into "Satan Shoes" released in conjunction with the latest single by out rapper Lil Nas X.
Doctors in Japan announced Thursday they have successfully performed the world's first transplant of lung tissue from living donors to a patient with severe lung damage from COVID-19.
Unlike investment portfolios, annuities or pensions, Social Security is the only retirement income that is guaranteed for life and backed by the full faith and credit of the United States government.
Edmunds' experts have compiled a list of five SUVs that come in a variety of sizes and have unusually low starting prices for their competitive segments.
Beaten down by the pandemic, many laid-off or idle restaurant workers have pivoted to dishing out food with a taste of home. Some have found their entrepreneurial side, slinging culinary creations from their own kitchens.
The brain of Phillip Adams — the former NFL player who killed a South Carolina physician, three family members and a repairman before fatally shooting himself — will be tested for a degenerative disease that has affected a number of pro athletes.
London often appears as a top destination for LGBTQ travelers, but post-COVID, what will be left of the city's community?
During Boston's annual Gay Pride Parade in June, these establishments are much busier than normal. Here are the top 5 LGBTQ bars in B-town.