Gay Ft. Lauderdale: The Latest
First-term Minneapolis Mayor Jacob Frey appeared to be doing everything right.
Overall, the cost of food bought to eat at home skyrocketed by the most in 46 years, and analysts caution that meat prices in particular could remain high.
Despite more storms in the forecast, two NASA astronauts have begun making their way to the launch pad for another attempt at a history-making ride into orbit.
Nothing, not even COVID-19, was going to keep RuPaul from crowning America's next drag superstar.
Considered the Oscars of queer publishing, the annual Lambda Literary Awards will not be held in person, but announced on June 1.
A Queer Serial presents a new series of LGBT-themed podcasts about the pioneering early days of the LGBT civil rights movment.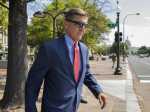 Transcripts of phone calls that played a pivotal role in the Russia investigation were declassified and released Friday.
The mouthpiece of China's ruling Communist Party said U.S. moves to end some trading privileges for Hong Kong "grossly interfere" in China's internal affairs and are "doomed to fail."
Pollution from human and agriculture waste spilling into the seas off Rome has decreased 30% during Italy's coronavirus lockdown, preliminary results from a nationwide survey of seawater quality indicate.
A police officer was seen on camera firing what appeared to be pepper balls at a news crew during a live television broadcast of the second night of Louisville protests.
Years of dialogue about police and criminal justice reforms in Minneapolis had improved the relationship between the African American community and law enforcement, activists say — before the police killing this week of George Floyd.
The world paused and for the first time in his life Ricky Martin felt anxiety.
It's our new normal: Tens of millions of Americans are unemployed or on a reduced income. We're social distancing and spending more time at home. But one thing hasn't changed — debts still have due dates.
The European Space Agency said Friday that its Solar Orbiter probe will pass through the tail of a comet in the coming days and scientists plan to switch on its instruments early.
Hospitals around the country are afraid to send out hundreds of thousands of bills related to COVID-19 testing. That's because Congress mandated there would be no copays and no out-of-pocket costs for patients. But who's paying?
Spain's government says that Japanese carmaker Nissan Motor Co. has decided to close its manufacturing plants in the northeastern Catalonia region.
Robot duties will include greeting customers, serving drinks and dishes and returning used glasses and crockery. It's unclear whether diners will be expected to tip.
In order to continue to contain the spread of the virus we'll still need to sustain these behaviors for weeks, maybe months, to come. Will people be able to maintain their vigilance?
Hawaii Gov. David Ige on Thursday said he would extend the state's 14-day quarantine requirement for travelers arriving in the state beyond June 30.
When Mr. Gay World 2020 had to be put off to next year, the plan was for first runner-up from 2019 to serve an interim term. Then an ironic twist emerged - one with a heroic tinge.