Gay Ft. Lauderdale: The Latest
The hilltop cottage belonging to a lesbian couple who were the first same-sex partners to legally marry in San Francisco has become a city landmark.
Caitlyn Jenner, a Republican whose campaign for California governor has elicited angry reaction from some members of the LGBTQ community, said Wednesday that "I move on" when it comes to her critics.
A federal judge on Wednesday allowed former reality TV star Josh Duggar to be released as he awaits trial on charges that he downloaded and possessed child pornography.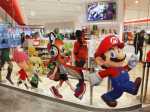 Nintendo Co.'s profit for the fiscal year that ended in March jumped 86% on healthy sales of its Switch handheld machine as people stayed home due to the pandemic, turning to video games for entertainment.
While France is divided about Napoleon Bonaparte's legacy on the 200th anniversary of his death, a French historian maintains that he was a 'gay friendly' emperor.
Drag ladies The Vivienne, Tia Kofi, Veronica Green and Shania Pain were on stage rehearsing for the "Drag Queens Of Pop" when police informed them of the threat.
Bowen Yang has had a number of milestones as a "Saturday Night Live" regular: The first Chinese American to star on the show and the first open LGBTQ performer to appear beyond one season. In a recent interview he described his gayest moment on the show.
Brazilian actor and comedian Paulo Gustavo passed away after a two-month battle with COVID-19, leaving behind his loving husband and two children.
The Olympic athlete was back in familiar form after winning gold in synchronized and individual dive performances at the 2021 FINA World Cup in Tokyo.
Channing Tatum admitted that he keeps in shape because he has to. "As someone who works out for a job, I promise you I would not look like this unless I had to be naked in most of my movies mostly," the "Magic Mike" star said.
Many Broadway productions are scrambling to resume ticket sales in the coming days to welcome theater-goers this fall after city and state leaders have green-lit a reopening of the Great White Way at full capacity by mid-September.
Out CNN news anchor Anderson Cooper is a stalwart presence on the airwaves when it comes to his own new show, but he's no Alex Trebeck.
Since the day after the deadly Jan. 6 riots on the U.S. Capitol, former President Donald Trump's social media accounts have been silent — muzzled for inciting violence using the platforms as online megaphones.
A new vaccine design approach focusing on B cells rather than T cells may be the first step toward what's been a highly elusive vaccine for HIV.
Before starting with the objectives of Bitcoin day trading and how to do it, let us tell you about Bitcoin Day Trading in detail.
Chinese tech giant Baidu rolled out its paid driverless taxi service on Sunday, making it the first company to commercialize autonomous driving operations in China.
Dried yellow mealworms could soon be hitting supermarket shelves and restaurants across Europe.
After spending much of the past year tending to elderly patients, doctors are seeing a clear demographic shift: young and middle-aged adults make up a growing share of the patients in covid-19 hospital wards.
Will the Pride flag fly at half-mast this summer as organizers cope with the fall-out of capacity restrictions at Copenhagen 2021 WorldPride and EuroGames?

Burning Man organizers announced Tuesday they are canceling this summer's annual counter-culture festival in the Nevada desert for the second year in a row because of the COVID-19 pandemic.