Topics :: Gay Days
After a magical day in Disneyland, thousands packed the Anaheim House of Blues for Kingdom, the biggest party of the weekend. With Kimberly S at the turntables and with a special performance by Well Strung, the night ruled again!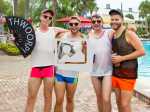 The Gay Days daytime pool party and Expo took place at Wyndham Orlando. Check out these great photos.
Many people came together to take the Plunge at Gay Days Anaheim's annual pool party. There was a pirate, mermaids, cool drinks and fun friends. Check out these photos.
Gay Days Anaheim turned Route 33 into Kingdom! With performances by RuPaul's Queens and Garrett Clayton.
The start of Gay Days Anaheim took everyone on an adventure down the Rabbit Hole at Wonderland! With a performance by Detox from Ru Paul's drag race.
The party never stopped at the Doubletree Orlando, as GayDays 2018 launched its fifth day of pool parties.
A bright day greeted gays and lesbians to Disney's Epcot theme park for the 28th Gay Days. Here are the pics!
With the sun out and the music pumping, Saturday's afternoon pool parties were packed. Check out the pics!
All the colors of the rainbow + the Magic Kingdom = the most fabulous day on Earth. Check out the incredible photos from Gay Day at the Magic Kingdom!
It was all-out drag war during GayDays this year. You've got to see these outfits!