Top Story
A breakdown of organizations that aim to help Black queer and trans people that you can now donate to during LGBTQ Pride Month.
1 thru 10 of 53846 Stories
Drew Brees apologized Thursday for comments that were "insensitive and completely missed the mark" when he reiterated his opposition to Colin Kaepernick's kneeling during the national anthem in 2016.
Civil rights icon John Lewis said Thursday that the video of George Floyd's death at the hands of police in Minnesota "made me cry."
Paramedics in Bogotá, Colombia reportedly refused care to a transwoman living with HIV named Alejandra Monocuco, and left her to die.
Meghan, the Duchess of Sussex, has shared her sadness about racial divisions in the United States, telling students at her former high school that she felt moved to speak out because the life of George Floyd mattered.
An ad created by a pro-Putin group in Russia stages what looks at first to be a heartwarming scene, but swiftly turns into cliche-ridden anti-LGBTQ propaganda.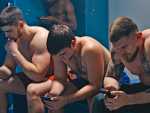 The company that owns the gay dating apps Scruff and Jack'd announced this week that it will be removing the "ethnicity filters" from both platforms in order to show support for the Black Lives Matter movement.
Three men with ties to right-wing extremists have been arrested on terrorism-related charges of planning to spark violence at both reopen and George Floyd protests.
In an extraordinary rebuke, former defense secretary Jim Mattis denounced Trump's heavy-handed use of military force to quell protests near the White House and said his former boss was setting up a "false conflict" between military and civil society.
The Roman Catholic bishop of Brooklyn, already under a church investigation for alleged sex abuse, has been accused by a second man of abuse in the 1970s, when the bishop was a parish priest in New Jersey.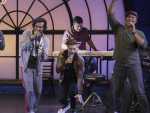 Just two days before it was to begin streaming, "We Are Freestyle Love Supreme," a documentary about the hip-hop improv group with Lin-Manuel Miranda and friends, has postponed its release out of solidarity with protesters.
1 thru 10 of 53846 Stories