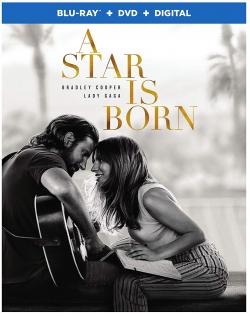 In "A Star Is Born," Bradley Cooper and Lady Gaga fuse their considerable talents to depict the raw and passionate tale of Jack and Ally, two artistic souls coming together, on stage and in life. Theirs is a complex journey through the beauty and heartbreak of a relationship struggling to survive.

In this new take on the iconic love story, four-time Oscar nominee Cooper ("American Sniper," "American Hustle," "Silver Linings Playbook") makes his directorial debut, and also stars alongside multiple award-winning, Oscar-nominated music superstar Gaga in her first leading role in a major motion picture. Cooper portrays seasoned musician Jackson Maine, who discovers and falls in love with struggling artist Ally. She has given up on her dream to become a successful singer until she meets Jack, who immediately sees her natural talent.

The film also stars Andrew Dice Clay, with Dave Chappelle and Sam Elliott. In addition to playing Ally, Gaga performs original songs in the film with Cooper, which they wrote with a handful of artists, including Lukas Nelson, Jason Isbell and Mark Ronson. The music is original and all vocals for the movie were recorded live during filming.

It's a must see!
Enter this contest
If you already have an account with EDGE, all you need to do is log in; we'll pull your address information from your account and simply ask you to verify it. If you do not yet have an account with us, register now! It's easy and free, and you'll never have to type in your personal information again. If you prefer to enter this information manually, you can use the manual entry link below.
Register
Click here for contest rules.
* Please be aware that creating multiple accounts for the same person will disqualify you.