Watch: Jason Derulo Speaks About Viral 'Anaconda' Pic, Denies Photoshopping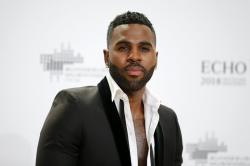 Pop star Jason Derulo is speaking out about a recent Instagram photo of himself that sparked a lot of conversation last week.

In the revealing snap, the "Talk Dirty" singer is seen wearing nothing but tight black underwear and some fans couldn't help but point out a rather large bulge. One fan asked Derulo, "What animal are you hiding in your pants," to which he responded, "Anaconda."

The pic unsurprisingly went viral and TMZ caught up with Derulo to talk about his post, which has now earned over 446,000 likes. He explained the pic was taken months ago while he was in Bali and didn't expect the post to be so popular.

When TMZ asked if the snap was Photoshopped, the "Cats" star denied it, saying that he's Haitian.

"Photoshop? Don't make me... It's not enough women in this area. Just know that us Haitians, we look different," he said.

Revisit the snap below and watch Derulo's interview with TMZ, also below.



Comments on Facebook