Topics :: Gay Pride
London's biggest Pride parade ever happened with an estimated 1.5 million people looking on as more than 30,000 people from 600 groups marched through the city's West End, marking the 50th anniversary of the Stonewall Riots.
NYC Pride presented VIP Rooftop World Pride at The Park, with two levels, a beautiful rooftop, hot dancers, and great music from DJ's Grind, Toy Armada, Ben Baker and Kitty Glitter.
There were so many spectators, floats, and parade participants at this year's Pride March and our EDGE photographer captured it all. Here is part three from this exciting event.
This was the first time that WorldPride was held in the US and it did not disappoint. Check out these photos to see some of the fun that was had.
A record number of participants and spectators came out to celebrate their Pride and to remember the fiftieth anniversary of the Stonewall riots. This turned out to be the largest LGBTQ celebration in the world!
San Francisco Pride got off to a late start due to protesters, but once the parade started, everyone celebrated the LGBTQ community and the 50th anniversary of Stonewall.
San Francisco Pride closed out 2019 Pride with the ultimate Pride gathering, called Under the Rotunda! The Grand Marshals interacted with guests as people enjoyed a cocktail party and appetizers.
Robert Vallin from Urban Bear Week NYC, organized an amazing cruise party. Attendees enjoyed more than three hours cruising around the city enjoying the beautiful sites and some great music from DJ Jonny Mack.
MasterBeat held its official World Pride main event, One World, at Hammerstein Ballroom, with DJ's Oscar Velazquez and Chus + Ceballos.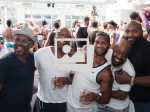 While there was an insane amount of parties to choose from throughout Pride weekend in NYC, Joe Fiore's Rüftop always has the right combination of great music, sexiness and fun.