Top Story
Not long after their wedding ceremony, Justin and Hailey Bieber are sharing steamy pics from a new Calvin Klein campaign.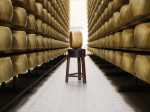 U.S. consumers who appreciate the tang of aged Italian Parmesan cheese as an aperitif or atop their favorite pasta dish are stocking up ahead of this week's tariff hike and as dairy producers in the two countries square off.
From a humble start of leaving the world of finance to write a beauty blog, Huda Kattan now has become one of the most recognizable names in makeup around the world.
There are endless products available from creams to gummies and beauty products. And now, some have even chosen to incorporate CBD into foods.
The secrets are really nothing too obscure. What's important is checking off as many boxes as possible to optimize the fruit size.
So is red meat good or bad for you? If the answer were only that simple.