Rage Monthly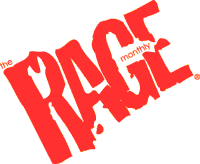 Check out Rage at ragemonthly.com.
While transgender people frequently seek out surgeries so their physical bodies match their gender identity, people who are intersex often have to protect themselves from well-meaning physicians who try to "normalize" their gonads and genitals.
We survive and thrive on a steady diet of free negotiations and compromises. This is what enables us to keep pace with the changing times and conditions necessary to maintain a healthy cohesive society, culture and economy.
Shores' material and humor is based in things pulled from personal experience and involves narratives we're all well acquainted with. Here's what he had to say about the creation of "A Very Sordid Wedding."
NewFilmmakers Los Angeles (NFMLA) is a non-profit organization that showcases innovative works by emerging filmmakers from around the world, offering a forum for Los Angeles' community of entertainment professionals and filmgoers.
Orange County Pride Week kicks off on Sunday, June 18 with nightly Pride events across Orange County, all leading up to the Pride Parade in Santa Ana on Saturday, June 24.
Throughout the world, LGBT Centers are often the first exposure to a positive encounter of unattenuated love and acceptance many members within the broader community experience.
Palm Springs International ShortFest (PSISF) has become the most "sizzle-worthy" short film event in North America, bragging rights backed up by the fact that over 100 have gone on to receive Oscar nominations and/or awards.
"Something Like Summer" is shaping up to be one of the most popular entries on this year's LGBT film festival circuit. This ambitious romantic-drama traces the 12-year relationship between handsome, young Ben and Tim.
Imagine my surprise when I discovered there are actually three LGBTQ films slated to make their screen debuts during the warm summer months.
47 years ago, members of the Los Angeles LGBT community decided it was time to start something.