Gay Ft. Lauderdale: The Latest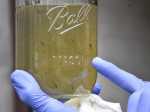 The World Health Organization says the levels of microplastics in drinking water don't appear to be risky, but that research has been spotty and more is needed into their effects on the environment and health.
Gary Ray Bowles, a serial killer who preyed on older gay men during an eight-month spree that left six dead, was executed by lethal injection Thursday at Florida State Prison.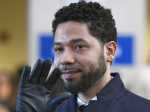 An Illinois judge seems close to appointing a special prosecutor to look into why state prosecutors abruptly dropped charges against actor Jussie Smollett accusing him of staging a racist, anti-gay attack against himself.
Authorities say an air traveler was detained by Las Vegas police after he punched an airline pilot at a McCarran International Airport gate where crew members determined he was too intoxicated to board a flight.
Prosecutors say two men in Los Angeles were arrested after using open houses to rob homes of celebrities, including singers Usher and Adam Lambert.
A woman accused of hacking Capital One and at least 30 other organizations is a flight risk, a threat and should be kept locked up until her trial, U.S. prosecutors said in court documents filed ahead of a Friday detention hearing in Seattle.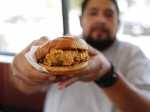 A nation already polarized finds itself divided once again, but this time politics isn't at the heart of it: The blame lies squarely on a fried piece of poultry.
Hasbro is going whole hog on Peppa Pig.
The Trump campaign has a message for its female supporters: It's time to come out of hiding.
Campaigning under the stifling August sun, Joe Biden assailed President Donald Trump's trade war with China, accusing him of squandering a strong economy and putting Americans' financial security at risk.
Former White House Press Secretary Sarah Sanders, who once sparred with journalists, has decided to join them.
The Hollywood Bowl continues its thrilling tradition of showcasing popular films with the L.A. Philharmonic playing the score live to a smitten audience, this past weekend with "Jurassic Park."
Planned Parenthood clinics are charging new fees, tapping into financial reserves, and warning of more unintended pregnancies and sexually transmitted diseases in the wake of its decision to quit a $260 million federal family planning program.
New York University air and ocean scientist David Holland, who is tracking what's happening in Greenland from both above and below, calls it "the end of the planet."
What I learned, besides fascinating facts about rabies, its transmission and the horrible ways one can die from it, was that any one of us is a mere cat scratch away from financial peril if we aren't lucky enough to have good health insurance.
President Donald Trump is misrepresenting the facts about his proposal to freeze Obama-era fuel economy requirements at 2021 levels.
Kentucky Supreme Court justices are scheduled to hear oral arguments in a case over a company's refusal to print T-shirts for a gay-pride festival due to religious beliefs.
The number of breathing illnesses reported among people who vape is growing. Health officials are now looking into more than 150 possible cases in 16 states.
VACAYA's inaugural cruise offered a catch-all for queer travelers. Here's one guest's experience of his week at sea.
For its 22nd year, the event is expected to attract more than 30,000 LGBT park-hoppers from California and all over the country. They will enjoy Disneyland in a way that it can only be experienced during Gay Days.