Top Story
The U.S. government is forcing a Chinese company it doesn't trust to sell the gay dating app Grindr by 2020, according to a report from CNN.
1 thru 10 of 12630 Stories
It was the dress blue uniforms that drew John Thompson to join the U.S. Marines, where black men were not welcome, so he could defend a country that denied him the rights he wanted to fight for.
Unveiling a new immigration plan, President Donald Trump said he wanted to provide a sharp contrast with Democrats, and he did — aiming to upend decades of family-based immigration policy with a new approach.
The Environmental Protection Agency's internal watchdog urged the agency on Thursday to look into recovering $124,000 in premium travel charges for former EPA head Scott Pruitt and his bodyguards.
Casino giant MGM Resorts told federal regulators Thursday it might pay up to $800 million to settle liability lawsuits stemming from the 2017 mass shooting in Las Vegas — the deadliest in modern U.S. history.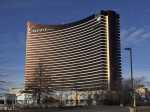 Two major casino operators said Friday they were in preliminary talks about the possible sale of one of the largest casinos in the Northeast.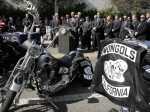 A federal judge on Friday fined the Mongols motorcycle club $500,000 in a racketeering and conspiracy case but refused the latest effort in a decade-long attempt by the government to take away the club's control over its logo.
Hedwig Hegtermans has lived in Britain for two decades, but she didn't have a vote when the country decided in 2016 to leave the European Union. She's determined to have her say on Brexit now.
President Donald Trump is moving fast to spend billions of dollars to build a wall on the Mexican border with money secured under his declaration of a national emergency, but he first must get past the courts.
Conservative lightning rod Roy Moore of Alabama, narrow loser of a turbulent special election for Senate in 2017, is considering a fresh run next year. National Republican leaders are signaling they'll again try to stop him.
Two gay high school students say they were tossed out of a Chicago restaurant for a sharing a hug. The school says it stands with the teens - and their friends are taking their business elsewhere.
1 thru 10 of 12630 Stories