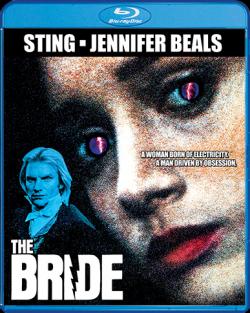 "The photography is just right, the editing flawless, the set design convincing and the wardrobes spot on ... The brilliant screenplay makes [the] journey fun, heart-warming and sad." - Tales Of Terror

Frankenstein builds the perfect woman - and lives to regret it - in this tantalizing marriage of horror, romance, and unbridled passion! Rock legend Sting plays the cunning scientist and Jennifer Beals (Flashdance, The L Word) lends her dramatic presence as his supreme, sublime creation. This sumptuously gothic tale, inspired by the indelible themes and characters originally brought to life by Mary Shelley, follows Frankenstein's creations as they search for their place in the world - the gorgeous Eva by declaring her independence, and her grotesque intended mate Viktor (Clancy Brown, Highlander) by learning self-worth from a compassionate circus dwarf (David Rappaport, Time Bandits). Can Dr. Frankenstein survive when the monster returns to claim his intended? Alive with brilliant photography and lavish costumes. The Bride invites you to a wedding night you'll never forget.

Enter to win!

Thanks for visiting EDGE!
Enter this contest
If you already have an account with EDGE, all you need to do is log in; we'll pull your address information from your account and simply ask you to verify it. If you do not yet have an account with us, register now! It's easy and free, and you'll never have to type in your personal information again. If you prefer to enter this information manually, you can use the manual entry link below.
Register
Manual Entry
Click here for contest rules.
* Please be aware that creating multiple accounts for the same person will disqualify you.