Snowflake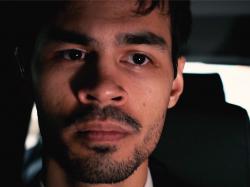 Writer/director Jack Tracy did what many people probably wanted to do after November 9, 2016: He produced, wrote, directed, and starred in a film that looks at the possible repercussions of electing an unqualified, temperamentally unfit president with a bigoted VP a heartbeat away from the Oval Office.

"Snowflake" makes its world premiere at this year's qFlix Philadelphia film festival. The movie possesses the tension, social commentary, and supernatural edge of a "Twilight Zone" episode - that, in itself, is appropriate for our age.

It's election night, 2016. Ethan (J.J. Bozeman), his partner Ryan (Tracy), and their friend Natalie (Sarah Denison) have gathered to watch the results. When a media star named with no political experience but plenty of insults and aggression is elected president, their responses are all too familiar:

"What the fuck just happened?"

Ethan, being both gay and Filipino, has more than enough cause to feel worried in the weeks and months that follow. Adding to his sense of dread is the swift, terrifying descent of America down a rabbit hole in which the unthinkable becomes commonplace, president-elect Porter is already picking fights with a hostile nuclear power, and speculations that unstable commander in chief won't last long in the White House invite the even worse prospect of the dashing young vice president, Andrew Price, ascending to the nation's top office — where his overt hostility toward LGBTQ people could mean an even swifter, and even more brutal, clampdown than the horrors that are probably going to come under the reckless and impetuous Porter.

The film follows Ethan as his rage drives him on an epic arc toward what might turn out to be a spectacular spasm of violence. This possibility presents itself when Price — in a play that comes straight out of Mike Pence's catalogue of real-life stunts — engineers an "outrage" that comes with its own built-in press conference. Price is disgusted with the publicity stunt — credit him for that, at least — but his wife Sara (Claire Kennedy), a seething homophobe even more noxious than he is, puts him up to it.

Immediately afterward, however, Price experiences a mystical vision in which he's warned about a potential assassin — none other than Ethan, whom Price does not know and has never seen. With his conscience already in turmoil and the fear of a possible killer stalking him, Price gradually becomes just as terrified as Ethan is, though for very different reasons. A series of shootings carried out by supposedly left-wing crazies only worsens Price's anxieties; meantime, looming changes to the Supreme Court, vicious policies aimed at immigrants, and betrayals from the people closet to him push Ethan ever closer to the edge.

Fate will bring the two men together — but how will they respond to their fears, and to one another, when it does?

Tracy manages, in just under two hours, to distill the fractious and ongoing debates that ignited in 2016 and rage to this day. Every hot-button topic is aired and examined, from Black Lives Matter and marriage equality to the infamous NRA ad that all but sent out a call to gun-toting "patriots" to take to the streets, weapons in hand, against their more liberal countrymen. If our main characters are crazy - one with divine visitations, the other with a scarring sense of victimhood - then the world they live in is even more off the rails. They fit right in; craziness has become the new normal.

The film arrives right on time in this peculiar moment, and does so with eerie prescience and an almost regrettable precision; its predictions of insane rhetoric, judicial madness, and increasingly delusional right-wing punditry feel up-to-the-split-second, and you wonder whether this cinematic cri de coeur possesses a power of prophecy.
Kilian Melloy serves as EDGE Media Network's Assistant Arts Editor. He also reviews theater for WBUR. His professional memberships include the National Lesbian & Gay Journalists Association, the Boston Online Film Critics Association, The Gay and Lesbian Entertainment Critics Association, and the Boston Theater Critics Association's Elliot Norton Awards Committee.
Comments on Facebook