Working Woman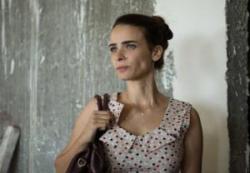 Michal Aviad's second feature drama, the finely nuanced "Working Woman" is an Israeli take on the #MeToo movement that clearly re-affirms the complexity of workplace harassment and that no two cases are ever the same.

30-something-year-old Orna (Liron Ben Shlush) is the mother of three small children and whose husband has just opened his own restaurant that is desperately struggling to survive. When she is offered a career change as the PA to a high flying real estate developer Benny (Menashe Noy) she jumps at the chance as although it will mean working long hours it will provide some financial security for the family.


Even though she has no real-estate experience she finds that she takes to it like a duck takes to water, and when she proves that she is a natural saleswoman that can off-load some apartments in the high rise they are building, Benny rewards her with a promotion and a raise. He also makes a very clumsy pass at her one night, for which he apologises profusely the next day swearing that it will never happen again.

It does of course and when they are celebrating in Paris after having just sold eight apartments in one meeting Benny corners her in an hotel room and takes it one step further.

Back home in Israel she is so traumatised and falls apart leaving her job, eventually confessing to her husband why she is so distraught. The only weak part of this very compelling story comes now as Orna fails to explain the circumstances properly to her husband and he therefore directs his anger at her and not Benny.

The story unfolds without a hint of melodrama and there is this suggestion that Benny is deeply attracted to Orna, and not that this is anyway at all justifies his actions, but it does at least humanise him more than others in similar situations.

Kudos to Ben Shlush for her pitch-perfect and mesmerising performance as Orna whose only ambition was to do the very best for her family even until the cost was way too high to carry on.
Roger Walker-Dack, a passionate cinephile, is a freelance writer, critic and broadcaster and the author/editor of three blogs. He divides his time between Miami Beach and Provincetown.
Comments on Facebook