Soccer star Megan Rapinoe has scored again, this time with a book deal.
Weinberg details the creative circumstances and cultural impact of this remarkable convergence of queer sexual liberation, decaying architecture and art activism.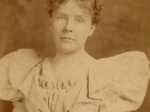 Authors Lizzie Ehrenhalt and Tilly Laskey have published a collection of love letters between former first lady Rose Cleveland and Evangeline Simpson Whipple.
Naomi Wolf says she has no hard feelings about the BBC interviewer who pointed out errors in her new book, "Outrages," which has been delayed for release in the U.S. against her wishes.
A great deal could be written about barbecue, and much of it already has been. But this recent offering from the University of Georgia Press demonstrates there's clearly room for one more.
A decade after seemingly wrapping up "The Hunger Games," Suzanne Collins is bringing readers back to Panem. A prequel, set 64 years before the beginning of her multimillion-selling trilogy, is coming next year.
Naomi Wolf's U.S. publisher is postponing the release of her new book, "Outrages," after a BBC interviewer challenged some of her findings. Wolf is openly objecting to the delay.
Linda Fairstein has been dropped by her publisher as fallout continues for the former Central Park Five prosecutor over the wrongful conviction of five teens for the 1989 rape and beating of a female jogger.
Before slaying the Winter Olympics last year, out figure skater Adam Rippon said he hated the sport, according to his new memoir.
Donald Trump Jr. has a book coming out later this year featuring his "views and perspectives" on the political scene and his father's presidency.