Olympian Adam Rippon's New Memoir Reveals He Used to Hate Skating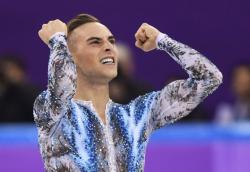 Before he won his bronze metal for figure skating and became the U.S.'s first openly gay athlete to win at the Winter Olympics, Adam Rippon was a young skater from Scranton, Penn. who "fucking hated it," according to Page Six.

His hatred for the sport didn't last long, however, as he quickly started pestering his family to bring him to the rink all the time. His new memoir, "Beautiful on the Outside," tells the story of his rise through the rinks culminating in an award winning Olympic competition.

Rippon worked his way onto the Olympic team and won the bronze for the States in the 2018 Winter Olympics. After that experience, he announced his retirement from competitive skating in November 2018. He's been trying to find time to keep skating, but struggles with how much more free time he has.

"In my old life, if I had two weeks off that was way too much time," Rippon said. Using all that time productively, he has written his new book which will be released October 19. His memoir is styled after Tina Fey's book "Bossypants," and he hopes that it captures the humor with which he looks back on his life.

"I wanted to write something that had a lot of those stories in there, but was also really funny," he said. "When you have a really serious situation and you inject a little bit of humor into it ... as heavy as it can get, I always look forward to putting the next joke in."

Find Adam Rippon's memoir, "Beautiful on the Outside" in bookstores starting October 19, 2019.
Comments on Facebook