Top Story
Charlize Theron is revealing that she's raising her child Jackson, whom she adopted and introduced to the world as a boy, as a girl.
"Miracle in Rwanda" helps us better understand how one woman survived, and also how a painful struggle with her faith led her to find some inner healing through the forgiveness of her oppressors.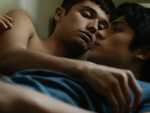 An Argentinian coming-of-age drama, based on a true story, that doesn't end well.
Veteran British filmmaker and seven-time Academy Award Nominee Mike Leigh takes a look back at a disgraceful - if largely forgotten - moment in English history.
Argentinian gay auteur Marco Berger's latest movie is a slow-burning and extremely sensual romance.
In a strange new video uploaded to her YouTube channel Sunday, disgraced comedian Roseanne Barr claimed she is queer.