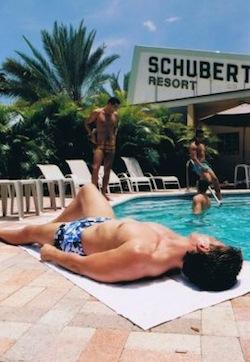 The Schubert Resort
855 N.E. 20th Avenue
Ft Lauderdale Florida 33304

Description
A Gay Fort Lauderdale Clothing Optional Resort

The Schubert is an ALL MALE clothing optional private men's resort and has experienced a $2.5 million renovation.

The Schubert Resort, situated on one tropical acre is rich in history with the property having the distinction of being Fort Lauderdale's first tourist attraction - The Clyde Beatty Jungle Zoo.

In 1948, MGM did a feature called "Cat College" on the property and in 2001, a portion of the movie "Ali" with Will Smith was filmed at the resort. And soon to be released worldwide, the sequel to "Another Gay Movie", GAYS GONE WILD was filmed at The Schubert Resort.

The grounds of the resort are tropical being totally enclosed making sunning "au natural" by the pool and 10-man jacuzzi a delight in the Florida sunshine.

The Schubert was built in 1953, and continues to have the retro look, charm and style today. 2008 celebrates five (5) years that the resort has been under the new direction of being Fort Lauderdale's third largest All Male Clothing Optional Gay Men's Private Resort.

We pride ourselves on its awards and recognitions, some of being honored with the Five Star Out and About Award, The superior Small Lodging White Glove Award. Famous names are not unfamiliar to the Schubert guest list and include Brent Barrett, male lead with the Broadway production of Chicago, Puppetier Jerry Halliday, a visit from Florence Henderson and Harvey Firestein with the Broadway play Hairspray, and Holly Farris who appeared at our anniversary as Cher, Bette Midler, Joan Rivers and Tina Turner.

The Management and Staff invite you to experience this award winning tropical paradise for yourself.