Recent Photos from EDGE Media Network!
1 thru 10 of 7664 Stories
As the Cote d'Azur extravaganza has unspooled over the last week, photographer Petros Giannakouris has focused his camera lens on the smaller fashion details of the festival's famed red carpet.
MGM resorts kicked off pool season with the 10th anniversary of Temptation Sundays at the Luxor Resort on the Las Vegas Strip. The steamy weather brought out hot bodies and cool drinks as everyone enjoyed hanging out at the Oasis pool next to the pyramid.
DJ Brent Covington and DJ Taffy hosted FUZZ this past Friday night at The Alley Bar. See who came out.
Live Out Loud held their 18th annual Young Trailblazers Gala at The Lighthouse, Pier 61 in NYC, honoring LGBTQ high school seniors for their achievements and great leadership skills.
AIDS Care Ocean State held their 9th annual King of Queens Pageant where men and women who have never dressed in drag compete for one of two Crowns: Fan Favorite, and the Judge's King of Queens. Congratulations to the eight contestants and the winners!
Things in San Francisco got really weird at the 20th annual How Weird Street Fair, where everything weird is normal in the city by the bay. People came out in bright, wild costumes to enjoy art, vendors, music, and to hang out with friends.
The 30th Annual GLAAD Media Awards honoring media for fair, accurate, and inclusive representations of LGBTQ people and issues was held at the New York Hilton with Madonna, Andy Cohen, Anderson Cooper and many more.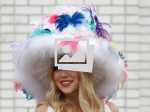 Pouring rain and a controversial call didn't stop Kentucky fashionistas from showing off their fabulous hats. Here are some of our favorites.
Ozwald Boateng, the one-time wunderkind of London's Savile Row, filled the historic Apollo Theater to its rafters in celebration of the 100th anniversary of the Harlem Renaissance as he launched his first womenswear collection.
Jamaica Plain's Bella Luna & The Milky Way hosted their seasonal craft beer tasting event on May 1st with brews from major beer outlets and mac & cheese. See who was there.
1 thru 10 of 7664 Stories